The beta phase of this project is open! Just point out your UO to connect to: play.uoshard.com:2953. Enjoy it!
SERVER LOGIN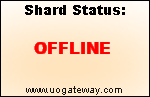 SERVER
: play.uoshard.com
PORT
: 2593
UO logo and Ultima Online game are property of Electronic Arts. All trademarks are the property of their respective owners.
UO Shard is in no way affiliated with EA Games, Mythic Entertainment, Origin Systems, Or Broadsword.